Introduction
Blenders are one of the essential kitchen devices that you can prepare a variety of delicacies from desserts to snacks, breakfast to dinner. People who love spending time in the kitchen and getting creative with their meals surely will know how useful blenders are for all kinds of culinary creations.
But even if you don't see yourself as a cook that performs miracles in the kitchen, a blender that meets your requirements may make the time you spend preparing meals so much easier and fun. Creamy smoothies, perfectly smooth soups, or even homemade ice cream are not that hard to make with a good quality blender!
Of course, with endless options you can choose from, it is not easy to decide which one to invest in. But no worries, we listed the best blenders of 2022 for you, and all you need to do is consider your expectations from a blender. For example, maybe you need a single-serve, daily-use blender that is smaller to prepare your smoothies, or perhaps you need something bigger for soups or sauces? All these options are included in our list for you to choose from, depending on your needs.
1- NutriBullet NBR-1201 Blender
Click on the image to see the full review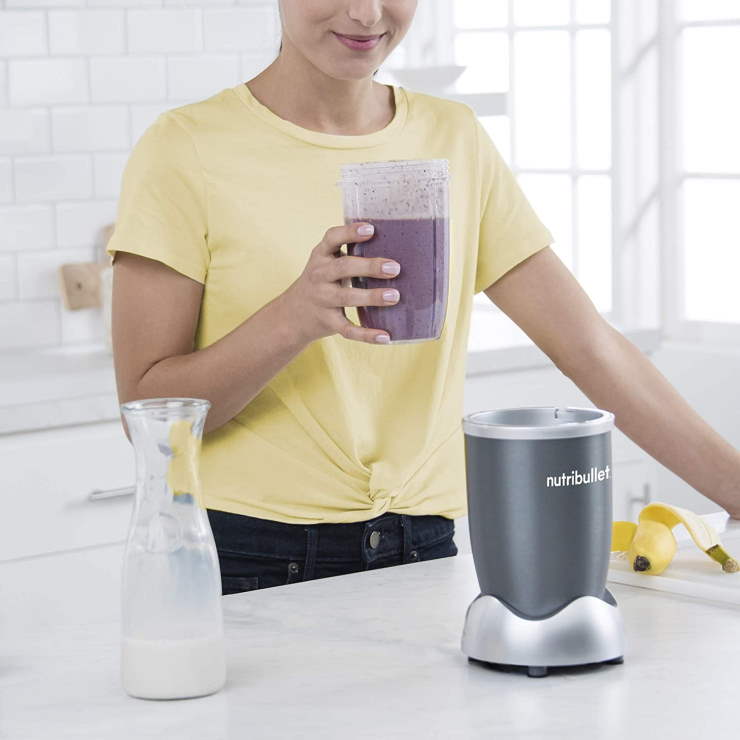 NutriBullet NBR-1201 Blender is a high-speed set that consists of 12 pieces and is made with polycarbonate material. In this set, you will get a 600W motor base, an extractor blade, a milling blade, a handled cup, a 24 oz cup, an 18 oz cup, a cup ring, and a cup ring with a handle, and two re-sealable lids.
Practical design
Easy-to-use design of the NutriBullet blender makes it ideal, especially for daily use.
Easy cleaning
BPA-free plastic cups can be washed in the machine's top rack, while you can only hand-wash the base by just twisting off the blades.
| Pros | Cons |
| --- | --- |
| Multifunctional | Leaks the liquid inside when mixing. |
| Practical | Not very good with frozen fruits and vegetables. |
| Works perfectly with fibrous foods | It may not be very long-lasting. |
NutriBullet NBR-1201 Blender Review
If you want a blender that you can use for different purposes, this one might be it for you. NutriBullet's secret lies in the revolutionary extractor blades and unique extractor technology, which uses a 600-watt motor with cyclonic motion. In contrast to what juicers and blenders accomplish, this technology breaks down and pulverizes the stems, seeds, and skins where most vital nutrition is found.
So, this product is ideal for you if you lead an active, busy, healthy lifestyle or enjoy experimenting in the kitchen. Make a smoothie quickly, get a lid, and take it wherever you go. What's amazing is that the cookbook offers many fantastic ideas that have been tried and true if you're new to adopting a healthy lifestyle and are confused about how to use your blender or what to put in it.
2- Blendtec Total Classic Original Blender
Click on the image to see the full review
This Blendtec blender offers 10 varying speed options and 6 blend cycles that you can prepare many things from juicy smoothies to velvety soups. The jar, which has a 75 oz capacity, is adorned with stainless steel blades and a drive shaft.
Friction power
You can also heat your food while blending. Serve directly from the blender jar, and don't worry about having to clean more dishes!
Fast and powerful
Blendtec is not only fast but also powerful enough to mixt thick cookie, pizza, or bread doughs.
| Pros | Cons |
| --- | --- |
| Powerful 1570 Watt motor | Not very practical. |
| Elegant design | The motor might heat up quickly. |
| Safe | Noisy. |
Blendtec Total Classic Original Blender Review
This blender is a life-saver for a big family who loves pancakes and healthy fruit purees for breakfast! And if you have a friend group that comes together frequently for cocktails or movie nights, Blendtec has your back! Make snow out of ice and amaze your guests with amazing margaritas. This is a sturdy blender that can make anything from sauces to doughs. The three-quart BPA-free jar is big enough for almost any task.
The ease of having a powerful blender in your kitchen is of its best quality. Having one makes it possible to cook excellent, healthy meals quickly. Also, this blender is compact enough to put in the cabinets below or remain on your kitchen counter. The blender is safe thanks to the fixed blade, but bolting on loose components is no longer an issue.
3- Ninja BN701 Professional Plus Bender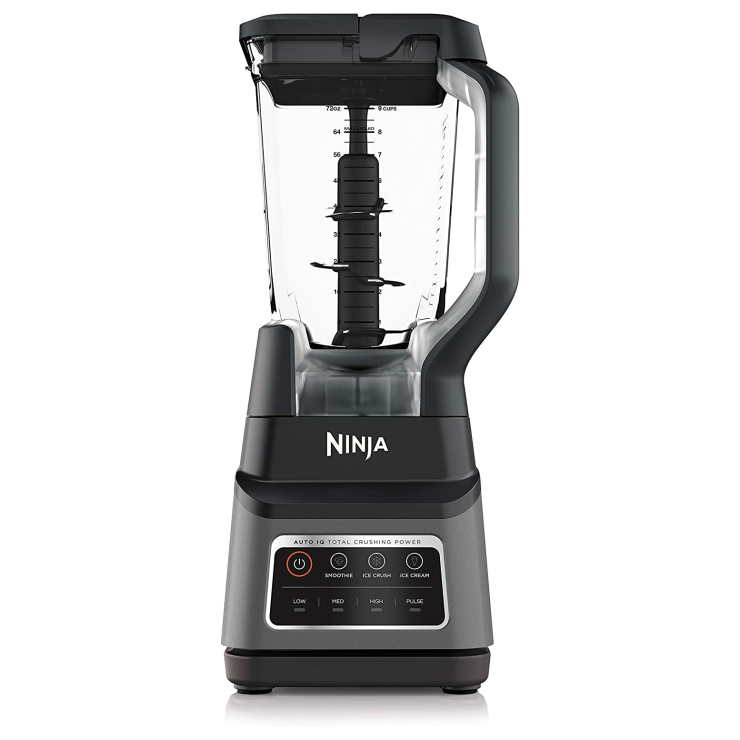 This Ninja Professional blender comes with a 1400 Peak-Watt motor, 72 oz total crushing pitcher, 3 Auto-IQ programs and 4 manual speeds, and a recipe guide that will help you to get creative in the kitchen. What's most impressive about this product is that it can crush ice much faster than any other blender.
Sharp and powerful blades
Ninja's total crushing blade is so powerful that you can even crush ice fast.
Versatile functions
With 3 preset programs consisting of smoothie, ice cream, and ice crush buttons, you can easily prepare anything with this durable blender.
| Pros | Cons |
| --- | --- |
| Large capacity | It doesn't have a neat spinning tunnel. |
| Total crush | It may cause injuries because of the sharpness of the blades. |
| Works wonders on ice | The lid is not very durable. |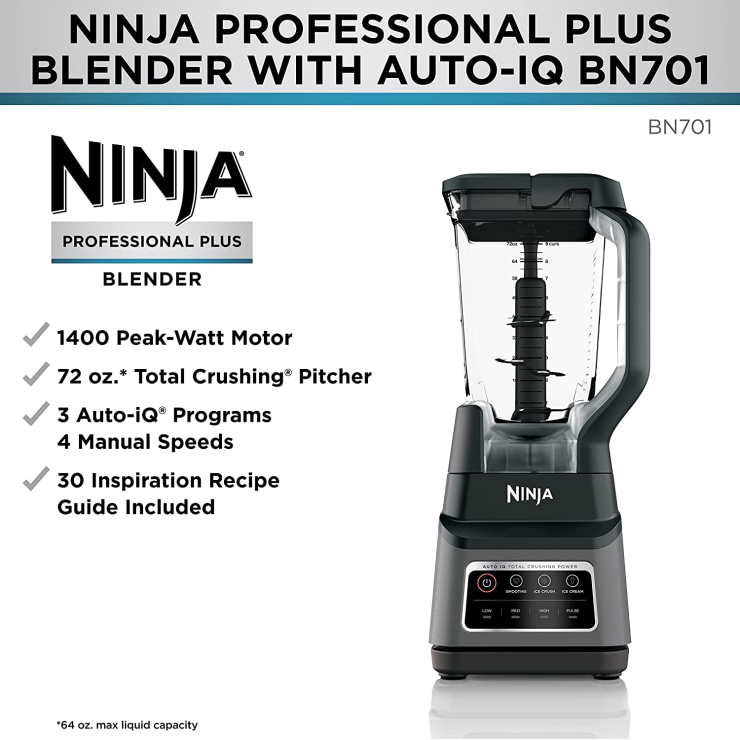 Ninja BN701 Professional Plus Blender Review
This is a wonderful option for the ones who need a powerful blender. Especially if you love making cocktails or frappes at home, this item will be a game-changer for you with its ice-crushing abilities! And it's easy to clean too. You can remove the blade assembly and manually wash the interior thoroughly.
It's challenging to find a powerful and silent blender at the same time as this one. But, unlike most blenders, this one can truly chop stuff up while not sounding like it will explode or give up at any moment. Because high and low blades ensure that everything is mixed thoroughly. And with the use of smart technology, a single button press is enough to cause the blender to pulse periodically, which is ideal for smoothies.
4- Vitamix Explorian Blender
Click on the image to see the full review
This Vitamix blender is a Professional-level blender with a 64 oz container, a lid, and a low profile temper. With its ten varying speed options, you can obtain the desired texture for every mezze, soup, or smoothie. Also, the base housing is made of durable plastic and contains a lot of heavy metal.
Self-cleaning
It's an amazing feature that will lessen the time you spend doing dishes. Drop a tiny amount of washing liquid and a little warm water and let Vitamix do the cleaning in 30 seconds!
Hardened stainless-steel blades
Aircraft-grade steel blades handle challenging ingredients to give you consistent, high-quality results from start to end.
| Pros | Cons |
| --- | --- |
| It perfectly fits most kitchen cabinets | Noisy and vibrating. |
| Self cleans | It doesn't create a vortex, so the ingredients hardly reach the blades. |
| Three-year warranty | It might give an electrical smell. |
Vitamix Explorian Blender Review
Who wouldn't love to be able to prepare any drink or food with an appliance and not have to clean it? Honestly, this feature is perfect for me, and if you are like me, this item is just the thing for you. You will be glad it doesn't have all those small parts that are time-consuming to clean and take the fun out of making a delicious drink.
Since Vitamix has an open-handed return policy and offers demo units, they receive them back if they are little to no used. These parts undergo testing and inspection, and if they are older than a year or damaged, you receive new container shells, new blades, new tampers, and any other parts that don't function or appear to be new are replaced.
5- Oster Blender Pro 1200
Click on the image to see the full review
This set comes with a 24-ounce cup which you can also use to blend, and dual direction blade technology that allows you to get quicker and smoother results with its extra-wide 3.5″ blade system. Seven-speed options and three pre-programmed settings make it a breeze to prepare anything.
Extra-wide base
The pitcher is designed to make ingredients flow down easy and quick for you to obtain faster results.
To-go cup option
With the 24-ounce cup included in the set, you can prepare one serving of drinks without much hassle.
| Pros | Cons |
| --- | --- |
| Ten-year metal drive limited warranty | Not very long-lasting. |
| Boroclass, thermal shockproof glass pitcher | Hard to clean. |
| Ice crushing power | The lid is hard to remove. |
Oster Blender Pro 1200 Review
With its all-metal drive, reverse action, plenty of strength for home usage, and glass blending pitcher to decrease exposure to estrogenic plastics and lower the cost of replacement parts, this Oster blender impresses. The reversing blade motion will be very useful, especially if you enjoy making sauces like the salsa at home.
This feature helps keep things going without having to stop the blender from redistributing everything. And if you think about it, this appliance is prone to get very hot during the blending, so if you don't like the hot-plastic pitcher combination like me, Oster Pro 1200 might be the perfect option for you!
6- Vitamix Professional Series 750 Blender
Click on the image to see the full review
It's another self-cleaning, powerful, and long-lasting blender from Vitamix. This Professional blender comes with a 64-ounce container, a low-profile tamper, and a cookbook. What makes this product so special is that it gives all the control to you. Thanks to the pulse function and varying speed options, you can manually adjust any recipe's texture.
Power
Every part of this Vitamix machine cooperates thanks to the concentrated power of our entire blending system to produce blends that are smoother, quicker, and more flavorful.
Versatility
This product allows you to prepare anything from ice creams to soups by pressing a button. You can even make formula filled with nutrition in seconds.
| Pros | Cons |
| --- | --- |
| Cool-running motor | Blades can get loose. |
| Blade friction heating | The pitcher is not so sturdy. |
| High-performance | Very loud. |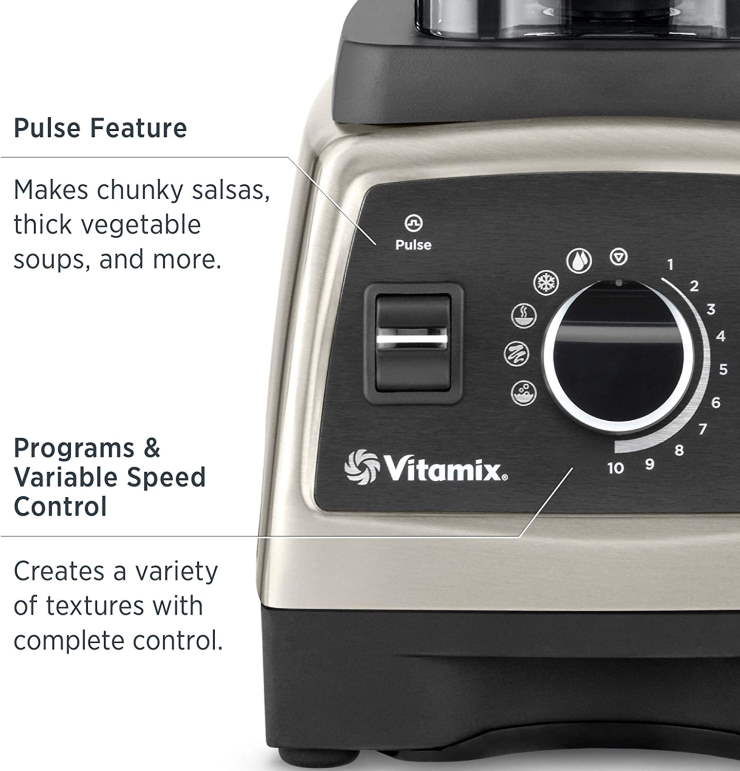 Vitamix Professional Series 750 Blender Review
Are you looking for a powerful blender that is large enough for your family but at the same time compact enough to fit under your kitchen cabinets? Then this Vitamix Professional blender will make you so happy. Every corner of the pitcher is intended to fold components back to the blades for quicker, nicer blending. The blades also achieve speed quickly enough to generate friction heat. Just give it six minutes and see how ingredients you just got out of the fridge turn into steaming hot ones.
This may be an expensive option, but trust me, considering every feature of this blender and how tiring it is to replace kitchen appliances, this is a good deal. Plus, It destroys anything in its path and cleans itself in just a minute.
7- Ninja BN801 Professional Plus Kitchen System
Click on the image to see the full review
Buy on Amazon
This set includes a 1400-Peak-Watt motor base, a 72-oz. total crushing pitcher, two 24-oz. single-serve cups with lids, extractor blades, 8-cup precision processor bowl, stacked blade assembly, a chopping blade, a dough blade, and a 30-recipe inspiration guide. Everything you'll need in your kitchen is in it!
Healthier smoothies
With pro extractor blades assembly, hard-to-crush ingredients break down in minutes, and you end up with a drink with lots of vitamins and nutrients extracted from fruits and vegetables.
Multifunctional
This set is so well-rounded you can even prepare a full breakfast by using it. While it effortlessly crushes ice and quickly mixes doughs, all you need to do is enjoy.
| Pros | Cons |
| --- | --- |
| Large capacity | Heats too much. |
| On-the-go convenience | The motor base is not included in the warranty. |
| Separate blades for different purposes | Blades can fall since they are not fixed. |
Ninja BN801 Professional Plus Kitchen System Review
If what you are looking for is not just a simple blender but a capable kitchen helper, this Ninja blender is the one for you. The blades are sharp, and cleaning the whole thing is not too difficult. It is easy to operate, practical, and presents well on the countertop. You can prepare anything with it from drinks to meals. Overall, it can be said that this is a perfect match for big families.
8- Nutri Ninja BL642 Personal and Countertop Blender
Click on the image to see the full review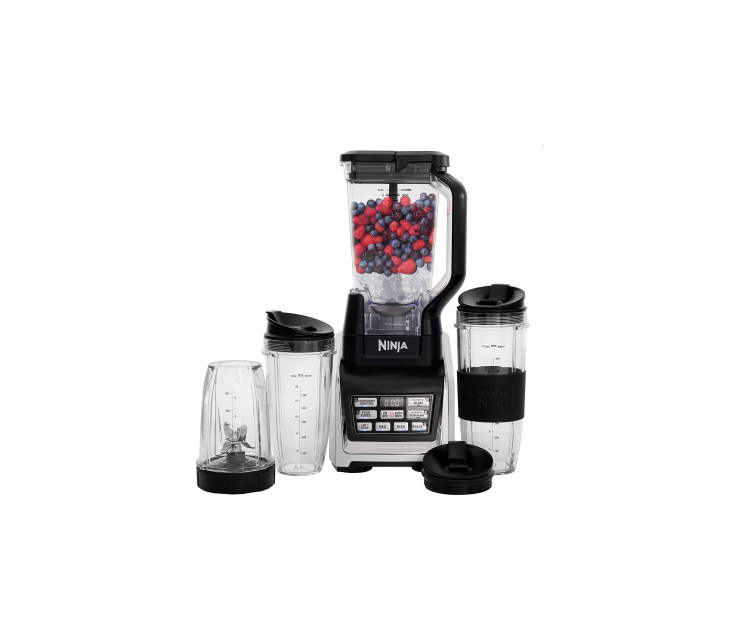 Buy on Amazon
The last set on our list comes with a 1500 Watt/2 HP motor base adorned with Auto-IQ technology, a 72oz. pitcher with lid and pour spout, total crushing blades, an 18oz. Nutri Ninja cup, a regular 24oz. Nutri Ninja cup and a Jumbo multi-serve cup.
Versatility
Nutri Ninja set is suitable for personal use and as a countertop kitchen appliance with three different-sized cup options.
Auto-IQ technology
Preset programs, including puree and smoothie buttons, help prepare things faster than ever.
| Pros | Cons |
| --- | --- |
| Good for both daily use and meal prep | Leaks. |
| Large capacity | Very heavy and takes up a large space. |
| Professional performance power | Only 3 months warranty. |
Nutri Ninja BL642 Personal and Countertop Blender Review
This blender set is a wonderful option for those looking for a powerful, multifunctional yet quiet appliance. And since the blender shuts down itself when the ingredients inside are in a puree state, it doesn't require you to watch the whole process.
Final Verdict
Now that you've seen the best blenders of 2022, there should be one or two options that you feel inclined to choose. But this isn't an easy decision. You should consider many factors, like the type of blender, capacity, functions, wattage, and expectations. For example, an all-purpose blender might look charming to you, but if you don't have the need or space for it, investing in something like that may not be a good idea. And if you have a big family or friend group, getting just a personal blender may come short for the recipes you can prepare for gatherings.
After investigating all the items on this list, I decided that the Oster Blender Pro 1200, the fifth item is the most suitable one for me. Considering the jar is glass (a big plus), I believe the product's pricing is very reasonable too. Also, this product gives you both large and small cup options, so you are covered even if you have company! Perfect for daily use and meal prep.
Of course, one of the other important things that should be considered is what you plan on doing with the blender. If your main purpose is to make cute-looking frappes, look for the options with sharper blades that could crush ice. And if you plan to prepare velvety soups for your family, check if the jar is heat-resistant.