Introduction
One of the most consumed cereals in the world is undoubtedly rice. Of course, there are also methods of consumption according to the varieties of this rice. You can patiently follow the steps to get the rice you want and eat the rice that suits your mouth. The thing that will help you the most here is, of course, rice cookers. It will prepare your suitable rice at the desired cooking level at the temperature you want and make it ready to eat.
Thinking about these was also a good reason to review the Zojirushi stainless steel rice cooker. Zojirushi stainless rice cooker prepares your rice in the desired format with chip support. As Zojirushi prepares it, it's up to you to wait. You also don't need to check your rice during this time constantly. Zojirushi rice cooker will do it for you. Let's examine what kind of product it is together.
| Pros | Cons |
| --- | --- |
| Offers multiple different rice-eating experiences | Cooking time is very long |
| Cooking pot is easily separated by both handles | Rice parameters extend cooking time |
| Handle on the head for easy transportation | Measuring cups are essential for desired flavor |
| Retractable plug cord avoids dangling cord | Warm-up mode can spoil rice if left for too long |
How to Use Zojirushi Neuro Fuzzy Rice Cooker?
You can easily cook rice with the tools inside the product's box. Everything that will help you do this is in the product's package. For example, the Zojirushi rice cooker has a cooking bowl that can cook 5.5 cups of rice.
Plug the product into a wall outlet
You take your rice to this cooking bowl in the dimensions you specify,
Put the designated amount of water,
Select any cooking parameters that suit you on the product's LCD screen.
When the cooking time begins and ends, certain melodies are played, and you can understand when the process is over, even if you are not in the kitchen.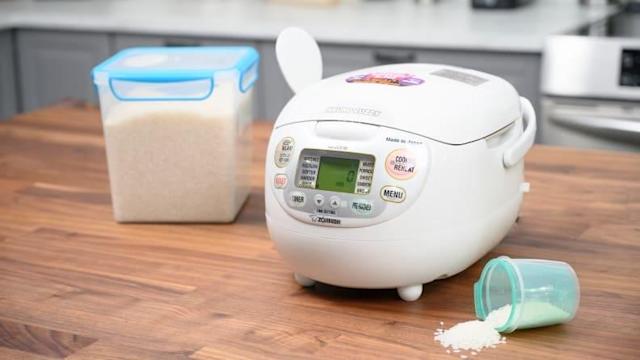 The Features of Zojirushi Neuro Fuzzy Rice Cooker
1- Stainless Steel Construction
Thanks to its stainless steel structure, the Zojirushi rice cooker has accompanied you for many years. This feature provides ease of use in most homes. However, when you do the same job in your pot for many years, you can easily see the oil and dirt that forms on the bottoms.
It would be best if you made extra effort to clean them. Thanks to Zojirushi, getting of this scourge is very easy. Since its stainless structure does not keep the oil in its system, it does not form a layer of oil and rust. From this point of view, it gets 5 out of 5 points from us.
2- Cooking Situations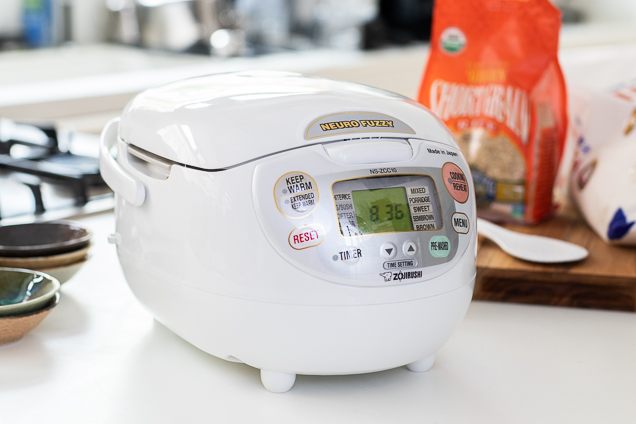 The options you can see on the LCD screen of the Zojirushi rice cooker give you the ease of cooking as much as you want. If you use your rice for sushi, you choose the sushi set, and if you want your rice brown, you choose the brown setting.
You adjust the duration according to the situations you prefer and add rice and water to the required dimensions for the product. You can also adjust according to the type and volume of rice. You can also adjust the duration to your own. However, having it in the settings for this feature allows your rice to cook better.
Otherwise, reducing the cooking time will disrupt the cooking balance of your rice because the rice cooker cannot give the promised flavor except for certain periods. Because of this feature, we rate it as 3 out of 5.
3- Ease Of Use
The Zojirushi stainless steel rice cookers box includes two measuring cups and a spatula. Apart from these, of course, there is also Zojirushi stainless steel rice cooker. Moreover, the book of recipes can come with it.
Thanks to the spatula it has, you don't even need spoons ad chopsticks to mix your rice and get it on your plate. With the spatula holder, there is no need for extra contamination of another place. You can easily clean the cooking bowl at Zojirushi without constantly rubbing it, only with light hand washing. You can also easily remove the stainless steel cover from where it is located. In this way, everything you think is contaminated is cleaned. We rated this feature as 5 out of 5.
4- MICOM Technology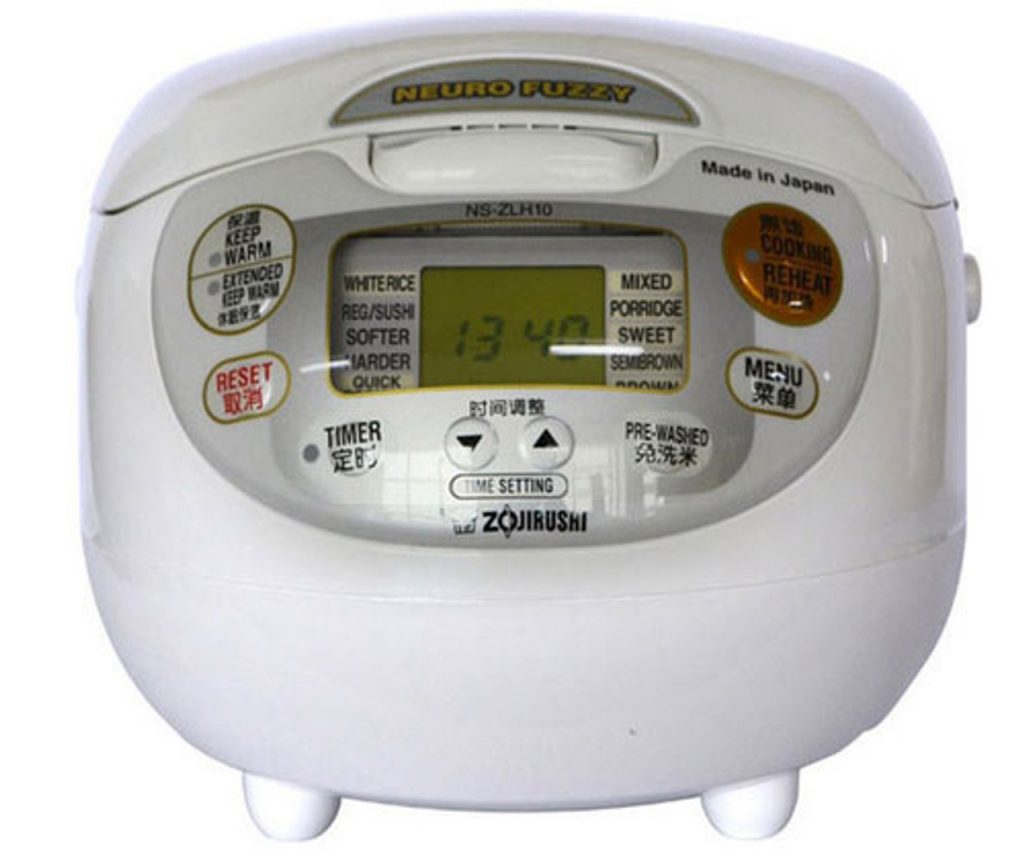 This technology adjusts the cooking times and temperatures according to the type of rice. This way, you will feel a similar cooking experience in each grain of rice. Sensors in the bottom body of the rice cooker detect when you put rice inside Zojirushi. Then it activates the cooking processes. It considers the humidity and temperature of your rice when it is in the cooking stage and regulates them easily.
Based on them, it regulates the cooking parameters. Regardless of the cooking parameter you choose, it also has a mode to keep your rice warm for more than 10 hours. It also regulates the temperature here with its technology and even serves to heat your rice for you again whenever you want. Our score for this feature is 4.
Conclusion
We think the Zojirushi rice cooker is a convenient one that can be purchased according to its characteristics. If cooking your rice for up to 40 minutes is also suitable, check out the Zojirushi rice cooker. It would help if you also considered that the Zojirushi rice cooker is more useful for white and medium-grain rice.
When you want to use the jasmine rice or brown option, the cooking times will increase even more. Remember that, like any technological device, this product has a lifespan. We have evaluated a rice cooker, which can replace your pot in your kitchen for you. If it suits you, you can continue your way with the Zojirushi rice cooker.
Top Amazon Customer Comments
J L – ⭐⭐⭐⭐⭐

Review: My Zujirushi rice cooker arrived today, and I made my first batch of rice in it! The machine is easy to set up and use. I watched YouTube videos and read a lot of reviews before purchasing, so that gave me a leg up so to speak.
J L – ⭐⭐⭐⭐⭐

Review: I just bought this older model in 2019. It seems very successful because it's been manufactured for a long time, and still it is listed as a "current" model on Zojirushi's website. I don't regret the purchase because it is probably best for me in the 1 liter (5.5 cup) range (same for 1.8 L), but as I note below, it has some downsides that made me a little disappointed. I was interested in the spherical heating element, the handles on the inner bowl, the extended keep-warm function, the retractable power cord, and the many varieties of rice settings. I would recommend something cheaper and/or newer if you mostly want to use it for white rice. But if you like a variety of rices, including different degrees of "brown-ness" and hardness then this is really one of the best in this price range, I think. That's probably why the model has stuck around for so long. BUT, the newer models have a "steam" function which this does NOT. So, the current description on Amazon's page for the item is WRONG. A similar, newer "Made in Japan" model for roughly same price (with removable cord, and fewer rice varieties, and newer steam vent design) does have "Steam" function and the description for the two is incorrectly duplicated here. I am still glad I got this one.