Introduction
Cooking is getting harder and harder for modern people in the rush of daily life. Making dinner becomes unbearable because of the exhaustion from working/studying or the desire to evaluate our time more efficiently instead of making dinner. Thus, we found ourselves ordering food online. However, take-out foods are unhealthy and costly. That is why the kitchenware that helps us prepare healthy meals quickly becomes our savior.
In this article, we will examine one of these products: Aroma Housewares ARC-914SBD Rice Cooker. Rice is delicious and nutritious food with meat and vegetable dishes. It is also not costly at all. Water and rice are the only two things you need to prepare this delicious meal. The key point here is to follow the recipe very carefully. Otherwise, it will be mushed or overcooked.
Difficulty in cooking rice intimidates people. If you are a rice lover but do not have time to cook or are not very good at cooking, a rice cooker will be very useful. Although there are so many products and it is hard to decide which one is best for you. Let's look at different features of Aroma Housewares ARC-914SBD Rice Cooker together.
Pros
Cheaper than most rice cookers
Stainless steel structure
15- Hour Delay Timer
Easy to clean
Cons
Limited color options
Easily malfunction
Requirement for extra converter or adapter outside of the US
No clear instructions for different types of foods.
Who is Aroma Housewares ARC-914SBD Rice Cooker for?
Nowadays, people do not have so much time to cook at home, although eating fast food every day can be tedious. Aroma Housewares Rice Cookers has a timer. In this way, you can program it to start cooking the preplaced raw rice before you arrive home, and you can enjoy a freshly cooked meal as soon as you get home—no need to keep thinking about what to eat at dinner.
Rice lovers can also enjoy Aroma Housewares ARC-914SBD Rice Cooker. If you want to consume more rice but have trouble cooking it, a rice cooker can help you. It is also useful for students with little space in their living areas. They can also use the Aroma Housewares Rice Cooker effectively because it can steam vegetables and cook oatmeal and soup.
The Features of Aroma Housewares ARC-914SBD Rice Cooker
1- Quality
Aroma Housewares is cheaper than most of the other brands. How about quality? Although Aroma Housewares Rice Cooker is a low-priced product, it is made of quality material. ARC-914SBD does not consist of PFOA and cadmium. It is made of stainless steel and healtier, and its inner pot is nonstick. All these are a sign of quality.
On the other hand, when reviewing the comments about the product, we realized not all the customers could have been able to use it for a long time. Some users had trouble because it stopped working after a few usages. We give 3 out of 5 because you might experience a problem like this. Although, Aroma Housewares provide one year warranty. You can use it if you have any issues.
2- Stainless Steel Structure
Stainless steel is a high-quality material that is used for kitchen supplies. It is healthier than other materials such as plastic. Aroma Housewares ARC-914SBD Rice Cooker has stainless steel structure on the inner surface. This keeps your meal away from harmful effects. Stainless steel structure also makes Aroma Housewares Rice Cooker more durable. Its inner surface won't be damaged easily.
Cleaning afterward is a boring part of cooking the meal. Although, stainless steel is a material that is easy to clean. Aroma Housewares ARC-914SBD Rice Cooker also has removable and dishwasher-safe accessories. You can wash all the other dishes, and they will be ready for use in a very short time. You don't have to worry about hand washing.
3- Size
You can cook up to 4 cups of raw rice in the Aroma Housewares Rice Cooker. When rice is cooked, it doubles its size so that you will have 8 cups of cooked rice. This size is ideal for small individual meals and side dishes. If you are cooking for yourself or a small number of people, the size will be enough. Although, larger families can consider buying a different model.
We gave for 4 out of 5 because even though you can cook white and brown rice, bulgur, or quinoa in this rice cooker, the information about the size (4 cups) is available only for traditional rice. Aroma Housewares does not provide clear information about different rice and foods. You might need to learn it by trying, or you read about other users' comments and follow their recipes.
4- Easy Usage
Rice is a pretty hard meal, although a rice cooker is the easiest way to cook it. Aroma Housewares ARC-914SBD Rice cooker has four preset digital functions. So, you can program it how you like. Also, with its 15-Hours Delay Timer, you can start to cook your meal before arriving home. So, you do not have to wait for it to cook for a long time.
You don't have to worry about the food getting burned. ARC-914SBD will automatically turn off the cooking mode, and the keep warm function will turn on. This way, your meal will stay fresh and hot for a long time. Although, we give it 4 out of 5. Because Aroma Housewares send its products with an electrical plug suitable for the US, you will need an additional adaptor or converter if you live in another country.
Conclusion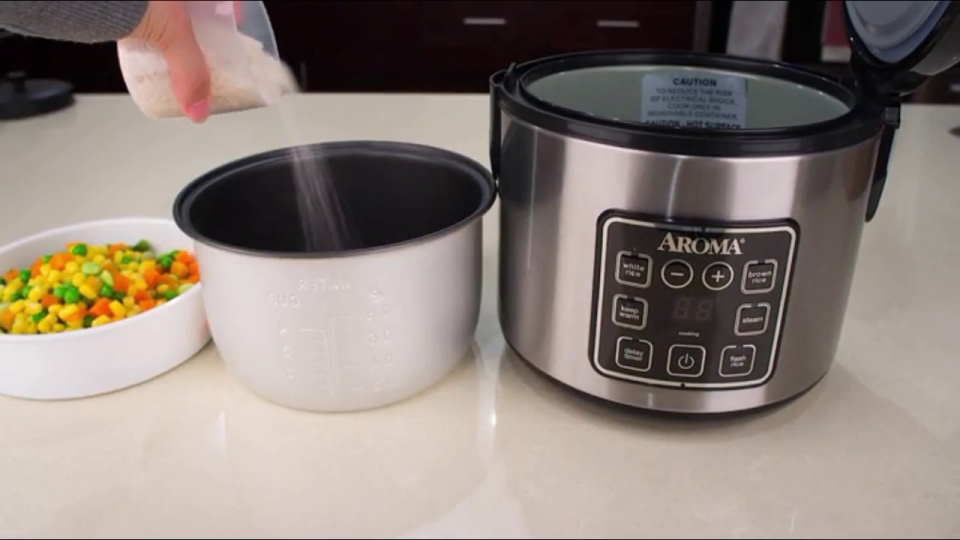 Rice cookers are a great hit right now, and there is plenty of rice cookers on the market. They offer to cook perfect rice every time without too much effort. Aroma Housewares ARC-914SBD Rice Cooker is one of these devices that offer us a great cooking experience. We gathered the general features of the product in this article. Check it to see if this product is right for you. Enjoy reading it!
Top Amazon Customer Comments
S. Pagliaccio – ⭐⭐⭐⭐⭐

Review: I've never really had a problem cooking rice on the stove, so I never felt I needed a rice cooker. I was concerned about taking up extra space in my cabinet for a device I didn't need. I had heard so many good things about this particular rice cooker, and the price was so reasonable, I thought, why not give it a try?
amazonisourfavestore – ⭐⭐⭐⭐⭐

Review: We own a large 60 cup, party-sized Aroma Housewares rice cooker and love it, so we decided to give this small 8 cup a try.
Steve Carbol – ⭐⭐⭐⭐

Review: I've had Aroma rice cookers for decades and, overall, they're reliable kitchen workhorses that produce good consistent results. This newest model, the small white one with limited functions, is no different. My issue is the blatantly erroneous claim that this model accommodates "4 cups raw" and "8 cups cooked" rice. That's a bold-faced fabrication. "Cups" refers to the puny plastic measuring cup that arrives as part of the kit and that provided cup is equivalent to approximately 1/2 a US measuring cup. The rice cooker pot looked precariously full with just 2 cups of uncooked white rice and the 4 cups of water required for cooking. Upon cooking, the rice was cooked perfectly but was overflowing the pot, requiring cleanup. In summary, Aroma rice cookers are sturdy efficient machines but beware the capacity touted online as it's only technically true because they've created their own measuring system. The unit preforms well but it's tiny and not suited to making quantities of rice for large families, parties, or extra rice for storage and use later. If making a little less than 2 standard US measuring cups of rice in one go, the product performs well. However, the be aware of the dinky size of the thing because, in this case, a cup is definitely not a cup.